DRE
J. SCHAEPKENS
VAN RIEMPST
The belly
The abdominal wall can remain marked after significant weight loss or pregnancy: skin has lost its tone, forming ripples and skin folds, or is damaged by stretch marks or scars.
Abdominoplasty or tummy tuck removes excess skin and tightens the abdominal wall.
The scar, located just above the pubic hairline, will be covered by your underwear or swimsuit. The length of the scar depends on the amount of excess skin. A full tummy tuck adds a small scar around the belly button.
If you are somewhat overweight, weight decrease before surgery will lead to better operating conditions and more satisfactory results.
During consultation, Dr Schaepkens van Riempst will discuss with you the most appropriate intervention (a mini-abdominoplasty or a full tummy tuck), the possible risks, and the postoperative care.
Health insurance covers only a very limited number of these interventions. Often a tummy tuck is considered aesthetic surgery.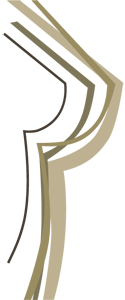 Regarding each treatment
After consultation and clinical examination, Dr Schaepkens van Riempst will discuss with you the possible treatment(s), each with its advantages, disadvantages and eventual complications. If appropriate, she will give you more information using sketches or pictures.
The final result of aesthetic, plastic and reconstructive surgery can often only be observed at one year after the procedure; during this time, the scars fade, the swelling decreases, the treated area becomes more harmonious and natural.
In the early postopertive period, Dre Schaepkens will see you regularly until healing is complete, followed by three monthly consultations during one year.